The 2021 Subaru Love Promise Community Commitment Award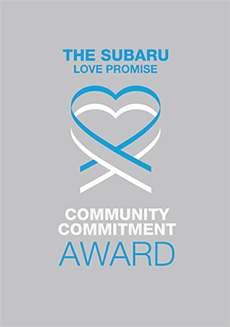 We've been nationally recognized for our dedication to our community and the Subaru Love Promise.
We're honored to receive the 2021 Subaru Love Promise Community Commitment Award. This award nationally recognizes Subaru retailers who are making the world a better place while demonstrating an outstanding commitment to supporting passions and causes in local communities. These efforts are focused in important areas such as the environment, community, health, education, and pets.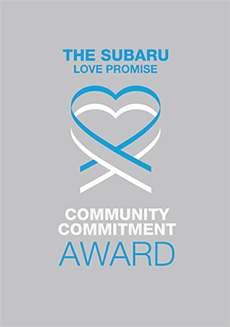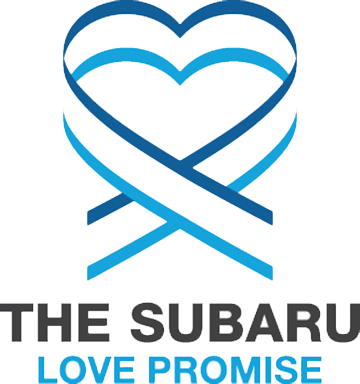 What is the Subaru Love Promise?
Subaru and our retailers believe in making the world a better place and the Subaru Love Promise is our vision of respecting all people. This is our commitment to show love and respect to our customers and to work to make a positive impact in the world.
How is CMA's Subaru of Winchester dedicated locally to the Love Promise?
We Love our partnership with our Local SPCA in conjunction with Subaru Loves Pets. Our partner school is Orchard View Elementary as part of Subaru Loves Learning. We donate blankets to Valley Health Systems for our Subaru Cares initiative. We love collecting new bikes for Toys for Tots at Christmas. We participate in a fund drive during September each year for pediatric cancer care and research and Breast cancer awareness during our October PINK month.
SPCA of Winchester, Frederick and Clarke Counties
Retail Facility re-cycling
Orchard View Elementary Scholl
Love Promise Stories from CMA's Subaru of Winchester
Subaru and CMA's Subaru of Winchester believe in making a positive impact on the communities in which we live and work. We uphold that belief through our Love Promise Community Commitment. Every month, we select inspiring stories from customers and partners from around our area who strive to support our collective commitment and feature them here
CMA's Subaru of Winchester Loves Learning - CMA's Subaru of Winchester C
CMA's Subaru of Winchester is ready for back to school. Our Subaru Loves Learning program will be working with not one but two schools this year. Bunker Hill Elementary is located in Bunker Hill, West Virginia the other is Orchard View Elementary located in Winchester, Va. CMA's Subaru of Winchester along with Subaru of America will be donating the following: $3000 to each school for supplies utilizing adoptaclassroom.org We will be supplying Subaru Loves Learning backpacks along with Subaru Loves Pets plush dogs for child interaction. We will be providing appreciation notes from our associates and customers to the teachers and supporting staff at each school. More to come 😇
---
NOT JUST ONE MORE VEHICLE - Armando M
A couple of weeks ago, I had to take my wife's car, a 2017 Subaru Impreza, for repairs and maintenance to Subaru of Winchester. I was sitting at the waiting room, when Mandy Housley, Service Department manager, walked through by the Parts Department. I was not in her range of vision, but what I witnessed speaks volumes at the personalized service environment she has created at the Service Department. There was a customer at the Parts window, Mandy greeted her by name, then she did the same with other customers who were sitting close to the Parts Dept. window. Later, when I came to get my vehicle, she greeted me as she usually does if she sees me, asked me if I had my dog with me, a nice touch in our short interaction. That is not simply good PR, essential for anyone in a managerial position, but also care and attention for her customers. How can anyone care about another person's business if they do not even know their names? That is what makes Subaru of Winchester distinctively different. My wife and I bought our two vehicles there, and despite the distance (an hour+ drive), and a closer Subaru branch, we have always taken our vehicles to them for maintenance and repairs. The key aspect in our relationship with the Service Department at Subaru of Winchester, and main reason to go there, is TRUST. We trust their attention to detail, their fairness in service and maintenance costs, their care for our vehicles, which by extension is care for us. Trusting those who provide service and maintenance to our vehicles, has a direct impact on our peace of mind. My wife drives her car every day to work, a 40+ minutes' drive, and I need to know her vehicle is on top working condition 24/7. At the Service Department, I deal mostly with Brad Ellmore, whose attention to detail is superb, his reports on the general state of our vehicles are always informative, providing me with a sober estimate on when I need a change of tires, new breaks, anything our vehicles' wear and tear demand. Similarly, all other Service Advisors carry the same drive for high quality, personalized service, always aware of our needs, moving one step ahead, letting us know they have our backs. These mystique for service and personalized attention extends to the entire Subaru of Winchester. People working in the Sales Dept. always acknowledge me when I manage to walk by their station, same with administration personnel. Recently I had an interaction with Duncan Carlson, who sold us my wife's Subaru Impreza. Where we live, we must drive on a gravel road up a steep slope to access the pave road that would take us to I-70, our main highway. We moved here two winters ago, and winters have been mild, but we have been in fear of a hard winter, like the current one. Old dwellers here told us we needed 4x4 vehicles to be safe, and I asked Brad Ellmore if he had any suggestions. He said I could buy a vehicle from another CMA dealership, get it delivered to Subaru of Winchester, and set me up on a phone call with a Subaru of Winchester salesmen. Coincidentally, Duncan called, I explained my dilemma, and he proceeded to dismantle the wrong notions about the need for a 4x4 vehicle, told me my Forester and a good set of winter tires was all I needed to face winter. His suggestion changed our lives and gave us a sure hold on managing our winter challenges. I told Brad I needed winter tires, he ordered them and replaced the old tires same day of the first snowfall and driving home from Winchester was a breeze. My safety level was quantitatively and qualitatively increased, told my wife she needed to get winter tires too. Just recently she told me what a difference winter tires have made in her driving. For a while I had the intention to call Duncan Carlson and tell him how grateful we were for his advice, no better place to do it than here. Big thanks to the Service Department for setting us with the proper gear, and for their attention to our needs, and to Subaru of Winchester for their excellence in service. Gratefully, Armando I. Menjivar Janet W. Smith PS: Actually, I personally thanked Duncan for his sound advice in a later visit. I wrote this piece a while back, winter season, suddenly a new workload crowded my already busy schedule and was not able to post it. It was long time due; I am now paying my courtesy debt with the Service Department in particular, and Subaru of Winchester in general.
---
Domino's story is one such story... - Lavenda D
There are times in animal welfare when we are witness to abuse and neglect. As tough as it can be to witness animals being let down by their humans, we continue to be motivated by their resiliency. Domino's story is one such story. Domino was found abandoned in the basement of a vacated home. His family had left him behind. The good Samaritans that found him brought him to the Winchester SPCA admission center on April 20th of 2021. Domino's physical condition was questionable. Most notably, he had an old eye injury that needed immediate treatment. Despite being left behind with this injury, he greeted the staff with a wagging backside and a beautiful smile. Proceeds from Subaru's Share the Love program allow us to help dogs like Domino. During this month long stay in shelter, Domino was neutered, vaccinated, treated for parasites, microchipped, and underwent surgery to have his eye removed. Domino was so compliant and gentle with the staff who helped in his recovery. He was patient while he wore his cone and eager to greet anyone who would take him for a walk or give him a pet. Shelter staff knew Domino was a special dog with a wonderful personality. Once the shelter vet removed the stitches from Domino's eye, he looked like a new man. Domino could now add 'handsome' to his long list of endearing characteristics. Domino was transferred to Winchester SPCA adoption center and quickly became a social media sensation. He was adopted just 48 hours after becoming available for adoption. Domino went home with his new family on May 22nd of 2021. He made a remarkable recovery in his 22 days at the Winchester SPCA. Having the resources to Share the Love and save dogs like Domino is what makes our partnership with our local Subaru so special. Thank you.
---
Subaru for Life - Bill M
In 1996, I was changing jobs/careers. I needed a reliable, safe, efficient and affordable car for my daily 110 mile round-trip commute. I had never owned a Subaru before, but respected the marketing and industry positioning. I found a 1996 Impreza Outback Sport and bought it. The car was excellent, meeting all of the above criteria. I had it serviced where I bought it at Dulles Subaru strictly according to the maintenance schedule and it served me very well through all my weather and commuting. I was so pleased with the 1996 Impreza that in December 2000, I bought a 2001 Outback H6-3.0 LLBean edition for my wife as an Anniversary present. In 2004, my wife convinced me to purchase another commuter vehicle . . . larger, heavier, nicer, so the 1996 Impreza was relegated to the task of teaching my 3 kids how to drive and I bought a 2004 H6-3.0 Outback Sedan. At this point, I now owned 3 Subaru and my primary Service person was Mandy. Mandy worked with me to keep these vehicles (and my 1994 Chrysler Town & Country) is great form. In 2014, after 20 years of great performance, one of the two onboard computers in my Town & Country failed and we could not replace it, so I ordered a new 2015, fully loaded, Outback 3.6. Around this time, my oldest son needed a good car for his life. I worked with Mandy to identify a really nice 2004 H6-3.0 Outback for my son. He loved this car and Mandy's service attention until it saved his life in a single car accident one stormy night. He replaced it with a new Legacy 3.6R which he still owns. My younger son was in an accident in 2012 in the 1996 Impreza. He needed a car for his life and bought a 2012 Impreza sedan that served him well through this year. By now, Mandy had taken the job as Service Manager at CMA's Subaru of Winchester, and we all followed her (I actually live in Winchester) there. My younger son married in 2018 and his wife needed a good car for her life. Again, consulting Mandy, she bought a 2012 Impreza Sport Sedan (that she still owns today). This year, my son's 2012 Impreza was totaled and, again, working with Mandy to identify the right vehicle, he is now the proud owner of a fully loaded 2.5 Pzev Outback. When I bought my new 3.6 Outback in 2014, I had Mandy restore my 2004 H6-3.0 Outback Sedan to all factory conditions and gave it to my daughter and boyfriend (now husband) to drive to their home in Salt Lake . . . with one condition . . . they had to have the vehicle serviced and maintained at their Subaru dealer. That car will last them and their two dogs (Shiba Inu and Australian Shepard) for at least 20 years if it is well maintained. Maintenance is very important to me, and the quality of the service and technicians at CMA's Subaru of Winchester is extraordinary. They remain loyal to exceptional care of all my vehicles and family members. Today, all is well and our family is very happy with our experience with Subaru vehicles, Subaru Sales, and Subaru Maintenance (Mandy makes all the difference). As a footnote, my sister needed to replace her Honda Fit and now owns a 2018 Forrester. Thank you, Subaru, for many years of great industry performance . . . to me, they are the best, safest, most reliable vehicles available.
---
Top Notch, no doubt, no question! - Timothy F
Let's face it, I despise dealerships, I have a lengthy history of fights with hundreds of them over simple issues such as poor customer service, service improperly completed, over pricing, lying, stealing and cheating. I really hate dealerships. This forces oneself to start maintaining their own vehicle. So I started replacing parts and doing oil changes myself. In 2017 my wife wanted to buy a Subaru, the price of this model with all the features was steep and we knew, as we always do with any high end vehicle, the money does not stop there. She drives long miles which results in frequent check-ups, maintenance and repairs, if any. To keep it in top performing condition we needed a team of people willing to play ball. I need reliance and trust for those who would be maintaining the vehicle. Well, three years later here we are, as I hop from one dealership to the next with my Jeep Renegade for repairs I'm unable to perform on my own, my wife continues to take her 2017 Subaru Cross trek Limited to the Winchester Subuaru. Is it a joke? Am I being set up? I can't figure these guys out! They are actually … nice, honest, caring, seriously, even knowing how mean I can be when I'm angry. Dusty, our amazing fast-talking representative who will bend over backwards to make sure the job is done the right way, Mike and even Scott, our main tech, who is a master pro of making sure my wife stays safe on the road, never, ever disappoints. This is not about me, this is about the safety of my wife, I would not trust any other group of guys. Have you ever tipped your tech, especially at a dealership? Of course not, it's ludicrous, why would anybody in their right mind do that? I did, I tipped them. Seriously! So at the age of 45 and over hundreds of dealerships & mom & pop shops we have visited, fought with, and have vowed to never returned to over the years, here we are, still relying on our people at the Winchester, Subaru to do what's right. My next venture, I plan to start taking my 2017 Jeep Renegade Sport there, I'm willing to stamp a Subaru logo on the vehicle in order to disguise it, just so I can get their service. But I know it's not necessary, as I know they will do whatever they can to help us in any way. Our company modo is that we are the Dunder Mifflin of Vending machines, but I have to say, Subaru at Winchester, they Dunder Mifflin us everytime! Thanks so much fellas, it is true what I say, you can always make up for any price, by being the best at what you do and who you are.
---
The Subaru Love Promise - Travis G
I would like to share the Subaru Love promise with a little story. My family currently has 3 Subaru's in the family and we have owned 7 total. Our 2015 Subaru Forrester started having a transmission issue. We have always had great service with the CMA's Subaru of Winchester and took it to have them take a look. They found the Transmission had an issue they would need to replace the whole unit. We were really bummed since we have never had any issues with any of our other Subaru's. CMA's Subaru of Winchester and Subaru America really stepped up. They helped us through this trying time to get our Transmission replaced in only 2 days, and at a very reasonable cost during the holiday season. I would personally like to thank the Service Writer, Mechanic, and Service manager for their help through this whole issue. The Subaru team at CMA Subaru of Winchester took the time to talk to us and listen to our issues, we were taken care of in a very timely and friendly way. We will continue to get our Subaru's serviced and purchase Subaru's from the Great Team at CMA Subaru of Winchester. Thank you, Travis G
---
Toys for Tots - James W
CMA's Subaru of Winchester, Thank you very much for your generous donation of 50 bicycles. Your donation will help a lot of less fortunate children in the area enjoy a very Merry Christmas. In 2019 11503 toys 4831 boos and 10974 Stocking Stuffers were distributed to 2747 children in Frederick County, Warren County, Clark County, Shenandoah County, and Page Country. Our work would not be possible if it weren't for generous donors such as you. Thank You Again, James Wolfe Toys for Tots Coordinator Winchester, VA
---
Fred has a Bed - LAVENDA D
Subaru Loves Pets Love Promise Story 2020 Fred came to the SPCA of Winchester, Frederick, and Clarke Counties in February of 2020. The animal shelter pulled Fred from another shelter where he was at risk for being euthanized due to space. Poor Fred had a variety of troublesome health issues that limited his adoptability. At 4 years old, Fred's owners moved away and left him behind at the apartment. Abandoned and confused, Fred started to pull his own fur out and quit using the litter box. Due to being abandoned, Fred was no longer a fan of humans. He had become aloof and no longer reached out for companionship. This demeanor meant that it would be even more difficult to find Fred the right family. Once he came to the Winchester SPCA, he was treated for fleas and ticks, de-wormed, received all his vaccinations, and got a microchip. Fred's anxiety and fur pulling meant reoccurring trips to see the vet and a multitude of medications to ease his condition. Fred was placed in foster care for a time with the goal of easing his anxiety and determining what was causing his litter box issues. The Winchester SPCA utilized a litter box attractant to encourage appropriate litter box use. This was effective. Finally, in May of 2020, Fred was ready be transferred to the SPCA adoption center. Unfortunately, Fred was often overlooked for younger, more playful kittens. He still did not appreciate the companionship of humans. Fred was moved to the director's office with the hopes she could make him feel comfortable with people again. Fred would get close to the director but not engage or allow her to pet him. He slowly got closer and closer but never enjoyed being touched while in the shelter environment. Staff was concerned poor Fred would never find a family to appreciate him. Then, on October 27, 2020, after 8 long months in shelter, and during the Subaru Loves Pets Wag O Ween adoption event, Fred's new mom came into the shelter. She completely understood Fred and was more than willing to give him a new home. She recently sent us this amazing follow up photo. As you can see, Fred is on her lap. She let us know that Fred is doing so well! He's started to come out of his shell and is very happy in his new home. He's come so far! We are so grateful to CMA's Subaru of Winchester for sponsoring Subaru Loves Pets and making this match possible. Thank you from Fred, his new mom, and whole team at the Winchester SPCA. Finding homes for underdogs "undercats" like Fred, keep us doing what we love and make all of our hard work worthwhile. We're so happy Fred has a Bed and family to tuck him in at night.
---